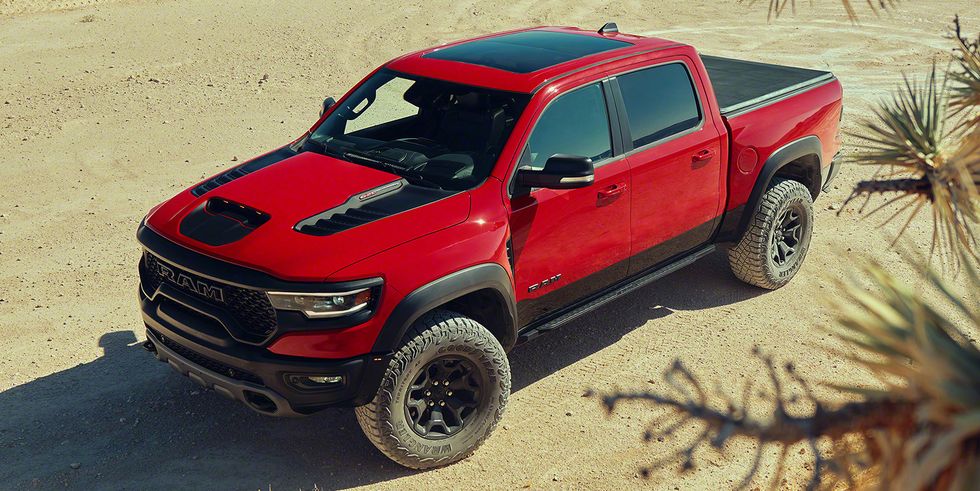 When Ram decides to bring out its innovative capabilities, it leaves the automobile world in shock. Ram TRX expands the light-duty lineup with the outstanding all-new 2021 Ram 1500 TRX. This vehicle sets a new benchmark among half-ton pickup trucks in terms of power and performance. Its 702-horsepower 6.2-liter Supercharged HEMI® V-8 engine makes it the most powerful mass-produced truck in the world.
The output of this high-performance engine is topnotch for extended driving sessions. Even with the maximum output, the performance never degrades. Take a glance at its design, and you will notice the aggressive stance and wide, muscular body wrapped over the top. When you compare the 2021 Ram 1500 TRX to other Ram 1500 models, it is 8 inches wider. It features composite flares that compensate for the 6-inch increase in track width.
That's not all. The TRX is made to meet extremely functional needs. Hence, Ram designed this vehicle with a unique RAM badge, front grille, hood, skid plates, and steel bumpers to meet its objectives. You have a premium LED taillamps standard on the 2021 Ram 1500 TRX. The bezels enable the blind-spot monitoring function that sees around extended box outers.
The interior of the TRX isn't left out. It packs all-new technology and original premium materials. The materials are high-quality ones that ensure comfort and durability. With the all-new 2021 Ram TRX, you can choose from three different interior options. These options include premium cloth and vinyl, and a premium wrapped leather and suede with available red and carbon fiber accents.
The interior of the Ram TRX features all-new front seats that come with enhanced upper bolster support. The SRT-signature steering wheel has a flat bottom that ensures firm hand grips, enhancing performance driving. The all-new display unit can show about five different content areas at once. How incredible is that!
The engineering of the 2021 Ram 1500 TRX helps it to handle various kinds of road and weather conditions. It indeed outperforms every other truck within its range. The dynamic drive modes allow you to customize the vehicle's performance. With its innovative, customizable features, there is no doubt that the 2021 Ram 1500 TRX is the most technologically advanced pickup ever. You do not want to miss out.
The best place to get any Ram truck is at Coastline Chrysler Dodge Jeep Ram. We are the best Orange County Ram truck dealer in San Juan Capistrano, CA. The all-new 2021 Ram 1500 TRX is coming soon to our showroom. We boast of an inventory that consists of new and pre-owned Ram trucks for sale. Our services extend to drivers near Laguna Beach, Lake Forest, and Mission Viejo, CA. Contact us to know more about our services. We are always ready to assist you.