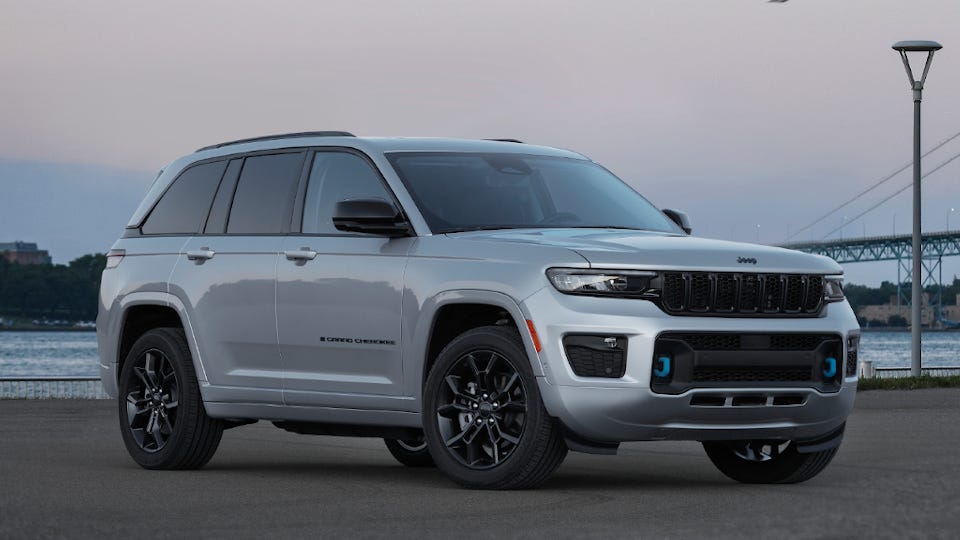 The Jeep brand's 2023 Grand Cherokee 4xe provides a captivating blend of performance, capability, and luxury. The most modern and technologically advanced Jeep Grand Cherokee to date, the 2023 Grand Cherokee, is a multifunctional SUV. The SUV may be anything from a luxurious SUV for relaxing family vacations and commutes to a beast for exhilarating off-road trips. The Jeep Grand Cherokee 4xe from 2023 exhibits class-leading capacity, versatility, and Jeep 4x4 capability. You can purchase the full-size hybrid SUV at the Coastline Chrysler Dodge Jeep Ram dealership in San Juan Capistrano, CA. The Jeep dealership has new SUV finance specials, and you can find out what's New for 2023: Jeep Grand Cherokee 4xe. A Jeep service center is also accessible to accommodate each customer's demands. Stop by for a test drive as soon as possible; the best offer is waiting for you.
2023 Jeep Grand Cherokee 4xe Styling & Interior Features
The 2023 Jeep Grand Cherokee 4xe's interior has a high-end flair. There is ample space, and the cabin exudes luxury. The 2023 Jeep Grand Cherokee is a two-row SUV that seats five people. Black Capri leather seats and ventilated front seats are among the interior upgrades from the previous model. The center stack of the 2023 Jeep Grand Cherokee 4xe's infotainment system is dominated by a 10.1-inch (8.4-inch as standard) touchscreen display. The system features wireless Apple CarPlay and Android Auto compatibility, Wi-Fi, USB connections in both rows, satellite radio, and other features. The 2023 Jeep Grand Cherokee 4xe has optional charging and seat-back video screens.
2023 Jeep Grand Cherokee 4xe Specs
Jeep has ensured that comfort, practicality, and off-road capabilities remain first-rate in the 2023 Jeep Grand Cherokee 4xe. Three driving modes are available for the Grand Cherokee 4xe: hybrid, electric, and eSave. The 2023 Jeep Grand Cherokee 4xe generates 375 horsepower overall thanks to the combination of a four-cylinder, 2.0-liter gasoline engine and an electric motor with a battery capacity of 17.3-kilowatt hours. 
While Grand Cherokees equipped with the V-8 or plug-in hybrid drivetrain come standard with all-wheel drive, the base V-6 model comes standard with rear-wheel drive. The SUV has an adjustable air suspension, which would also reduce vibrations to a minimum and offer a high level of ride comfort, making it feel agile and calm on the road. The Grand Cherokee's boxy shape, which defines the profile and has rounded edges, continues to have sophisticated features. 
In addition to squared-off wheel fenders, the sides contain two pinstripe accents. The exterior features a blacked-out theme, with new 20-inch black wheels, distinctive badging, and body-color accents on the rear fascia, sills, and wheel flares. The 6,000 lb maximum towing capacity of the 2023 Jeep Grand Cherokee 4xe is made possible by the 470 lb-ft of torque. All of the most recent driver-assistance features, such as adaptive cruise control, blind-spot monitoring, and lane-keeping assistance, are included in the 2023 Jeep Grand Cherokee. Jeep ensures its customers' safety by equipping the luxurious SUV with 3D navigation and a 360-degree surround-view camera system.